MEGGLE has it.
The right lactose product for all needs
High functional excipients are playing a prominent role in modern pharmaceutical formulations. With the right excipients it is possible to overcome API deficiencies as solubility, bioavailability or functional performance.
Application & processing of pharmaceutical lactose
Pharmaceutical lactose plays an important role as binder, carrier and filler and can be used in a wide field of industrial applications like traditional wet and dry granulation (roller compaction), direct compression (DC), spheronization, manufacturing of parenterals or dry powder inhalation (DPI). Various lactose grades with ranges of defined physical attributes are important for handling crystallinity, density, particle morphology and particle size distribution (PSD).
However, its main targets are still "classical" oral solid dosage forms like capsules or tablets for prescription, OTC medication, or a nutritional use. Lactose occurs in different forms, whereas crystalline, thermodynamically most stable α-lactose monohydrate ("thomahawk"-shaped crystals) and anhydrous ß-lactose ("kite-like" crystals) are the most frequently used polymorphs. Besides that, amorphous lactose, a mixture of α-, and ß-anomer, turns out being advantageous for introducing plasticity into e.g. spray-dried lactose grades. Lactose grades show distinct differences in their physical performance, although equal in chemistry. 
Lactose: A multifunctional partner
Lactose may also present itself as a multifunctional partner together with other excipients in the nature of co-processed excipients (CPE). They are perceived as a new subclass of materials comprising a physical combination of two or more compendial, or non-compendial components with varying composition. Typically, they result from a specific, "high energy input" and an additionally functional properties modifying manufacturing process as e.g. spray-drying, high-shear dispersion, or melt-extrusion. Co-processing is not achieved by simple physical mixing.
Pharmaceutical lactose is defined by premium regulatory (Ph. Eur., JP, USP NF, CP, IP-monographed) and quality standards (IPEG-GMP, EXCiPACTTM, ISO-certified), exemplarily expressed by its high chemical purity, low impurity profile including heavy metals, and safe microbiology.
Customized / Tailor-made lactose
Although MEGGLE has readily available a wide range of products which fit the needs of the majority of customers, MEGGLE is committed to go the extra mile by providing tailor made products, which are developed in a highly cooperative manner with our customers. As MEGGLE is fully equipped with the technologies suitable for sieving, milling, agglomeration, and spray-drying a remarkable high degree of customization can be achieved. The customization, however, is not exclusively limited to our "lactose only" products. MEGGLE's expertise in co-processing also allows for tailor-made co-processed products.
Packaging
Not only material needs some fine tuning, packaging material could also be tailored. Over the past decade, MEGGLE has seen an increasing demand for large-sized package material such as big bags, as this very packaging size allows for simplified production, in particular important for advanced automated workflows and continuous manufacturing.
MEGGLE's lactose-based excipients are available under the trade names
GranuLac® 70, GranuLac® 80  GranuLac® 140, GranuLac® 200, GranuLac® 230, SorboLac® 400, Tablettose® 70, Tablettose® 80, Tablettose® 100, FlowLac® 90, FlowLac® 100, DuraLac® H, MicroceLac® 100, Cellactose® 80, StarLac®, RetaLac®, Reta M®, CombiLac®, PrismaLac® 40, CapsuLac® 60, SacheLac® 80, SpheroLac® 100, InhaLac® 70, InhaLac® 120, InhaLac® 140, InhaLac® 150, InhaLac® 160, InhaLac® 230, InhaLac® 251,InhaLac® 300, InhaLac® 400, InhaLac® 500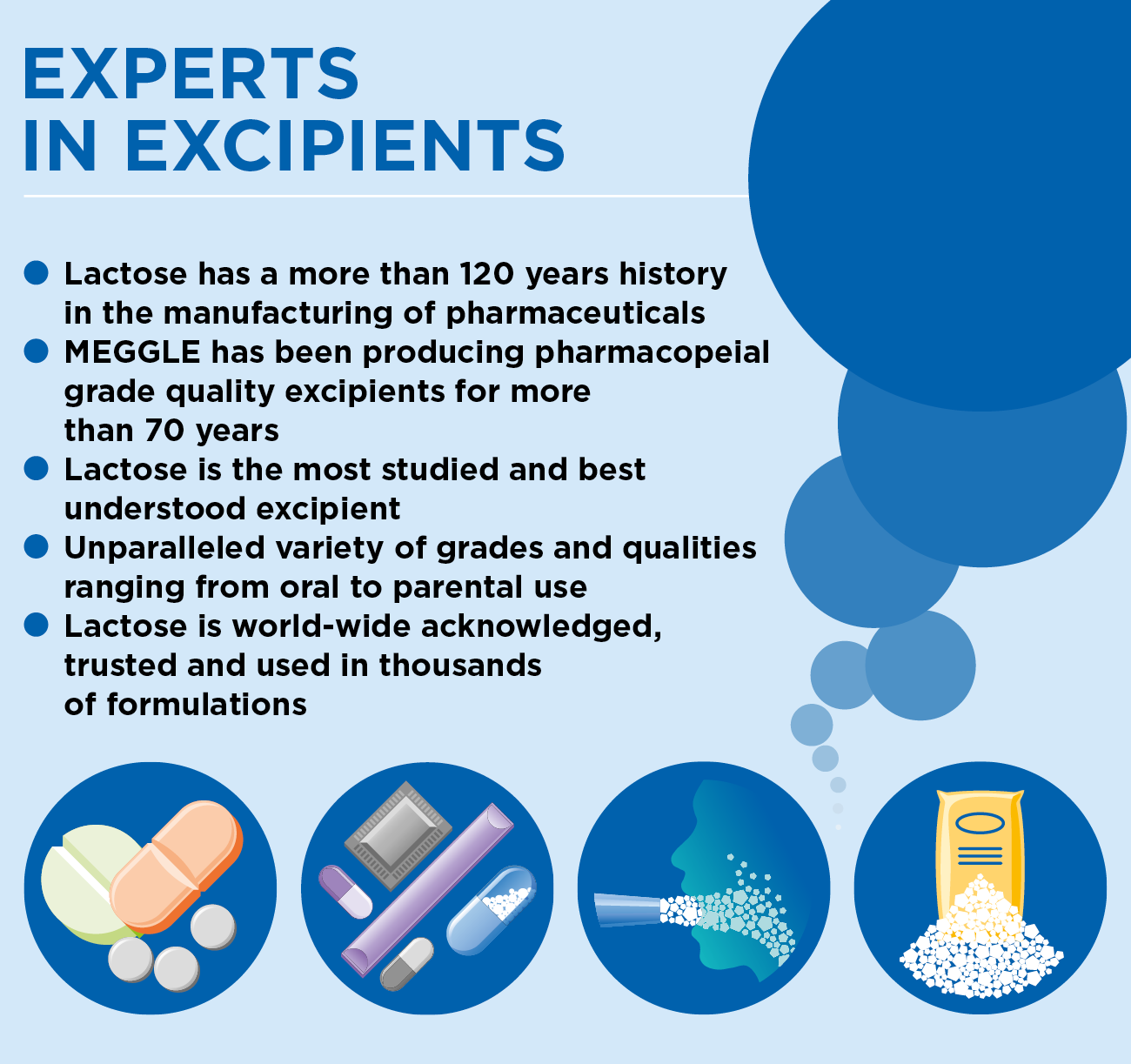 Information / Sample request: