MEGGLE fully covers the Chinese pharmacopoeia.
MEGGLE fully embraces Chinese Pharmacopoeia.

MEGGLE has been supporting the Chinese pharmaceutical market with its products and services for almost two decades. With the contribution of  our representative office in China, headed by Dr. Yi Kang, local customers have been quickly and comprehensively served. Either technical or quality related queries have been followed up with full commitment, minding local Chinese requirements. 
To this day MEGGLE has been able to put more than 30 of its excipient on NMPA's (formally known as CFDA) Center for Drug Evaluation (CDE) platform, which is a prerequisite to the use of MEGGLE excipients in pharmaceutical drug manufacturing in China, more than 10 of them have shown the status " A" on this platform. Along with MEGGLE's efforts with the CDE platform, MEGGLE 's office in China is capable of issuing the necessary letter of authorization (LOA) in Chinese language for our MEGGLE products, which is another important piece of legislation for drug registration and manufacturing in China.
2021, the year of the ox, marks the next step in MEGGLE's commitment to the Chinese pharmaceutical market. MEGGLE will officially extend its product specifications. From now MEGGLE's product specification will explicitly highlight compliance of the excipient with Chinese pharmacopoeia. In order to do so, MEGGLE has implemented new tests to its quality system, which were necessary to comply with Chinese Pharmacopoeia. Chinese and multinational companies alike will have access to MEGGLE excipients and corresponding documentation, providing significantly improved user convenience from a regulatory perspective.
MEGGLE always at your service!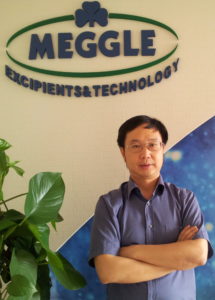 Dr. Yi Kang
Chief Representative
MEGGLE Group Shanghai Rep. Office