MEGGLE Excipients: Cornerstones for reliable Continuous Manufacturing (CM) processes
MEGGLE Excipients has more than 70 years of experience in the field of pharmaceutical excipients. As experts in direct compression, wet and dry granulation, we can help you to select the right excipient for your next continuous manufacturing project.
Continuous manufacturing will play a significant role in the pharmaceutical industry over the coming years. Our extensive portfolio of CM-ready excipients combined with our expertise in production processes, regulatory affairs and packaging options will ensure the success of your CM project.
For an overview about continuous manufacturing in general and the role of excipients in particular, please check our presentation
"DC lactoses: Cornerstones for reliable continuous manufacturing processes" which is available in a PDF or video format. 

You can expect the following content:
What is continuous manufacturing?

Advantages of continuous manufacturing 

Challenges in continuous manufacturing

Important excipient requirements

Performance of MEGGLE excipients in a continuous manufacturing setting for the production of Vitamine B2 tablets.

Summary
If you are interested, you can request the presentation via the contact form.
Our experts are looking forward to your inquiry.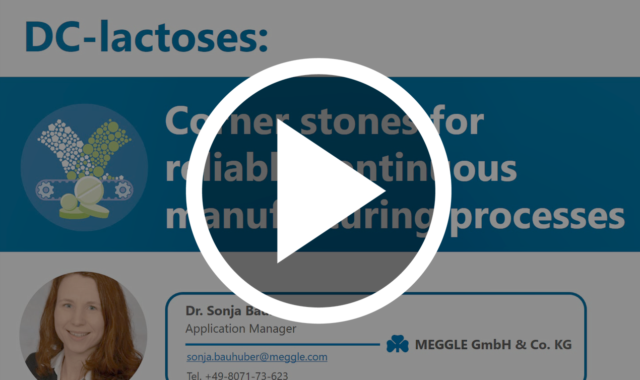 PRESENTATION REQUEST FORM
Continuous Manufacturing in the pharmaceutical industry – A promising solution.
Batch manufacturing is the proven and trusted process for manufacturing pharmaceutical products.
However, the interest of the industry to move to continuous manufacturing is increasing.
A key driver is the FDA, the U.S. Food and Drug Administration. The opinion of the FDA is, that continuous manufacturing has the possibility to improve product quality, reduces medicine shortages, and increases efficiency, among other benefits. Continuous manufacturing is supported by many regulatory bodies as it is consistent with the quality-by-design (QbD) approach for the development of pharmaceutical products.
Advantages of Continuous Manufacturing
In continuous manufacturing, a pharmaceutical product is produced without interruption. The entire process takes place on one production line, from start to finish, without stop.
The advantages of continuous manufacturing include:
Reduction in manufacturing costs, especially over the long term

Improved quality

Shorter production time – in some cases from weeks to days

Reduction in the risk of human error

Automated monitoring techniques and predictive maintenance can be used
In addition, continuous manufacturing is a more flexible process that makes scaling production much easier.
For example, scaling up will simply mean that the continuous manufacturing process will run longer.
MEGGLE – Your reliable partner for your Continuous Manufacturing formulation